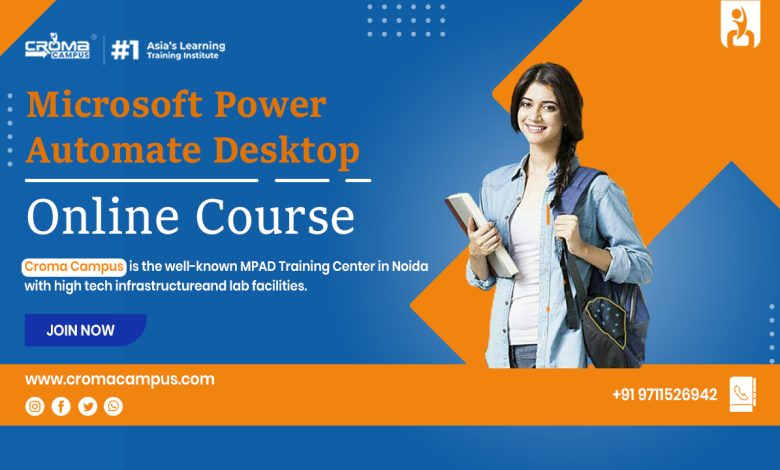 Microsoft Power Automate is a cloud-based platform that helps in creating workflows. In other words, it helps in developing automated workflows between applications and RPA (Robotic Process Automate). It is a part of the Microsoft Power Platform and assists in synchronizing files, getting notifications, and collecting data. In addition, it helps in boosting productivity and saving resources and time by creating automated workflows. To learn further one can join the Microsoft Power Automate Desktop Online Course. It further Boosts productivity & accuracy and is easily accessible. These workflows help in preventing data loss and identifying and accessing management services. Given below are the types Of Microsoft Power Automate Flows.
Button Flows- These flows are required to execute repetitive tasks from any place.

Automated Workflow- They require triggering and then they conduct the programmed task automatically.

Scheduled Flows- These flows help in continuing the process once the designated time finishes.

Business Process Flows- It acts as a guide for end-users and helps in getting work done in a streamlined fashion

User Interface Flows- This allows a user to automate repetitive tasks using interface actions such as clicks, keyboard input.
Uses Of Microsoft Power Automate
Microsoft Power Automate has a number of uses in managing workflows. It is useful in getting immediate notifications about emails and tracking new potential customers. In addition, this tool can save Email attachments to OneDrive or SharePoint automatically. This tool helps in optimizing the workflows of companies and results in reducing operating costs. Given below are some of the uses of Microsoft Power Automate. Above all, this tool comes with built-in capabilities and integrated error handling tools.
Automates Tasks Across Business Systems- It helps in automating connections and tasks across applications inside the Microsoft ecosystem and outside the Microsoft ecosystem.

Enhances Employee Satisfaction- As this tool helps in automating repetitive and boring tasks, it helps an employee to focus on other necessary activities. Thus, automatically enhancing the job satisfaction and feeling of accomplishment.

Saves Time In Decision Making- Automating the manual processes ensures that the tasks are completed effectively in time. This helps in saving time in decision-making.

Easily Accessible- A individual can access Microsoft power automatically even through its mobile app. Moreover, it helps in creating, running, and checking automated workflows through a phone.

Predefined Templates- This tool contains a library of predefined templates that help in creating time-saving workflows. However, a user can always create a flow from the very beginning.
Features Of Microsoft Power Automate
Microsoft Power Automate helps in saving time by creating quick workflows from individual tasks to large-scale systems. Microsoft Power Automate helps in creating safe workflows for the user with a guided experience. In addition, this tool ensures smart workflows and one can automate manual tasks by it. This helps in saving time and resources. Given below are some of the uses of this tool. Above all, this tool lets a user create workflows using templates. Thus, allowing easy automation of business activities. In addition, it facilitates the creation of joint workflows and one can also invite others to a created workflow.
Boost productivity & accuracy

Free-up time and focuses on strategic opportunities

Achieve more with reduced efforts\

Streamlining business processes

Adds intelligence to your automated processes

Predicts outcomes to improve performance
Microsoft Power Automate Connectors
Microsoft Power Automate is capable of integrating and connecting with other Microsoft or third-party applications. There are more than 300 predefined connectors and they help in connecting with third-party apps. However, this tool lets a user create its own connector in case none of the predefined ones fit according to the needs. There are several Microsoft Power Automate Desktop Training Institute in Gurgaon. Given below are the terms related to connectors.
Triggers- Triggers are the components responsible for starting a workflow and every connector carries at least one trigger. E-mail is one of the most common forms of the trigger.

Actions- Taking action is necessary after the process has begun. This process is next after triggering starts and each workflow consists of one or more actions.

Connections- Connections refer to the process of connecting two applications. In addition, each application we need to connect will require credentials, and these credentials are encrypted with Microsoft security.